Customer Feedback:
"We've started using AutoLib to catalog our detail library. AutoLib made short work of pouring through four thousand detail files in literally minutes. Since VoloView is built into the program, our construction administration people can review each detail without using AutoCAD. Creating standard network and custom project libraries is a breeze. Aside from the fact we don't have to create time intensive slide libraries, one of AutoLib's best features is the ability to utilize the drawing property data within the detail file, allowing for search queries and automatic scale insertions. It really is a powerful utility!"
Jim Grady, Cad Manager - WATG Architects
"We have been using AutoLib for several months now, and are able to better manage and organize our library of typical CAD details and drafting symbols. ArchMedia's customer service is excellent. They have really worked hard to resolve issues about our specific setup and use of AutoLib."
Don Yanos, CAD Administrator - SSFM International Inc.
It took us 5 years to build up a collection of standard details and 5 minutes to build up a Detail Library that everyone can use with AutoLib."
Victor Donoso, Cad Manager - Carter & Burgess, Inc.
Introducing AutoLib version 3.0.1

AutoCAD 2000-2010 and Windows XP - Vista x32, x64, and Windows 7 compatible. If you have previously downloaded an older version, please try the new improved version. For a list of new enhancements, check out our quick 10 steps to using AutoLib below.

Download our White Paper PDF to read the features and benefits of using AutoLib.

AutoLib is a Detail and Symbol Library database manager with search capabilities that will let you manage standard details as well as drawing symbols. Drawings can be added to the library in seconds and when updates are required, the thumbnail previews are automatically updated as well. There are several key features that make this product a powerful tool. Imagine organizing your ever-increasing library of symbols and details into customizable libraries. AutoLib has been designed by working professionals to provide an intuitive interface that allows the user to begin realizing the benefits of the utility almost immediately. Features include; keyword search, thumbnail and enlarged viewing capability, automatic scaling, among others. Want to see your productivity increase? Download a fully functional demo copy today!

Watch our AutoLib videos to see the ease and power of AutoLib!!

Click play to see how easy it is to setup AutoLib Drawing Libraries in seconds

AutoLib can batch print your entire libraries automatically

AutoLib's Search Function can find exactly what you are looking for

Features:
Simple interface that can add and manage libraries in seconds.
Real-time updates to viewing drawing files in libraries.
Reads AutoCAD drawing properties for description, key words and drawing scale.
View library files in enlarged mode with full Autodesk Volo View Express capabilities.
Administrative settings that can control library creation and editing based on folder security rights.
Unique "MyLib" feature that let users create custom libraries from company standard libraries or external files.
Search Database engine that can read libraries for keywords embedded in the drawing file.
Ability to copy xrefs from a master directory folder to a project folder before attaching to current drawing.
AutoScale feature scales detail/symbols automatically based on embedded drawing property dimscale.
Ability to completely describe drawings in paragraphs by reading embedded drawing properties.
AutoLib can print your Libraries one page at a time in enlarged mode or Batch print the entire Library.
AutoLib can be run externally and without AutoCAD. Inserting a detail/symbol will automatically load AutoCAD.
AutoLib can replace all symbol libraries currently used in your office and be the central source for all company standard details and symbols.
With AutoLib, you can create drawing content in seconds and be on you way to managing your details and symbols in minutes! Follow the simple 10-steps below to get up and running quickly using the basics of AutoLib:
Create a New Drawing Library:
1. Select the AutoLib Settings Tab:
2. Select the Library Button
3. From the Library Dialog, Type in a New Library Name (i.e. "Master Details"). Note: If the New Library name box is grayed out/disabled, you can select the Reset button to enable it again.
4. Navigate to your folders that contain drawing files and select the drawing files you would like to add to your library. You can select multiple files using the Shift and Ctrl buttons.
5. Once you have selected your drawing files, select the Add button
6. Select the Done button.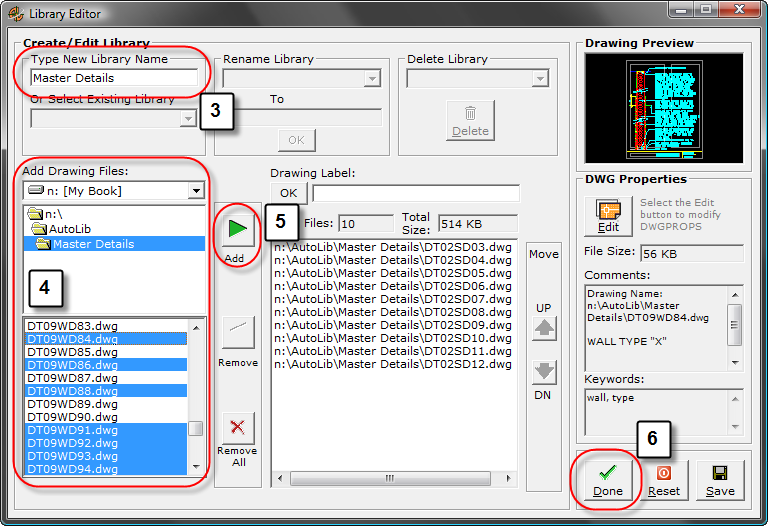 7. Confirm Library Save. Select Yes.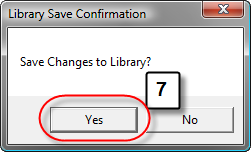 8. Done! Select your Library Name from the Library List. You can use the Next and Previous buttons to view each drawing page.
9. Insert your drawings by double-clicking the desired drawing thumbnail or selecting the Insert button.
10. Selecting the Main tab and the Enlarge button will show the drawing in Enlarged Mode with zoom, pan, and print capabilities using AutoDWG's view and print engine.